Project:-
Jeevansahadevan.com aka Jeevan SuperBlog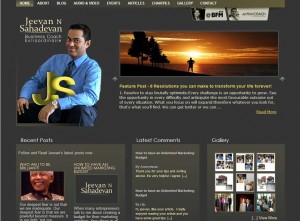 Client profile:-
The MOST Experienced ActionCOACH in Malaysia and Asia
Client's requirements:-
1)      Awesome website layout that positions Jeevan professionally and yet 'smart casual' so people can identify and connect with him
2)      Blog capability for Jeevan to blog regularly ie once a week talk on some current area of business which positions him as an authority
3)      Photos. Jeevan wanted to from time to time, load pictures of himself appearing in magazines that he appears in, or of his own personal interests
4)      An "About Me" section where people can learn about Jeevan
Project:-
Signature Kitchen – Connecting Passion Blog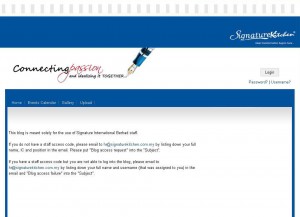 Client profile:-
Malaysia's largest retail network chain for the kitchen and wardrobe systems in Malaysia
Client's requirements:-
1)      A blog system for the CEO to inspire the employees of Signature International Berhad.
2)      Only employees can enter the blog via username and password protected login features.
3)      Audio, video, documents and text uploads are enabled for the Heads of Departments to interact with the employees.
Project:-
Small Grants Programme – Global Environment Fund (SGP GEF)
Client profile:-
The GEF Small Grants Programme (SGP) is a corporate programme of the Global Environment Facility (GEF), implemented by the United Nations Development Programme (UNDP) on behalf of the GEF partnership (UNDP, UNEP and the World Bank), and is executed by the United Nations Office for Project Services (UNOPS).
Client's requirements:-
1)      Information sharing site to encourage environmentally sustainable project proposal submissions and to update stakeholders and the public on the status of funded projects
2)      The site should have biodiversity design elements native to Malaysia